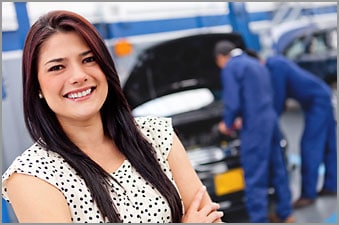 Have more questions but can't find the answers?
How often do I need to change the oil in my vehicle?
Scheduling an oil change every 5,000 to 7,500 miles (or every six months) is a great way to keep your engine running smoothly. Factors like your driving habits and the climate in which you drive can affect how frequently you should change your oil, so it's a good idea to check your owner's manual for specifics regarding your vehicle's needs.
Should I use synthetic motor oil in my car?
Synthetic motor oil is best for high-performance cars with supercharged or turbocharged engines. It's also helpful if you do a lot of towing, especially in extremely hot or cold temperatures. While synthetic oil is often pricier, it can improve fuel economy and lengthen the time between oil change intervals.
How often does my car need a tire rotation?
Rotating your tires every 6,000 miles or every six months at our Mitsubishi service center near Naperville is among the best things you can do to extend the lifespan of your tires and improve their performance. Tire rotations promote even tire wear, which helps your tires last longer.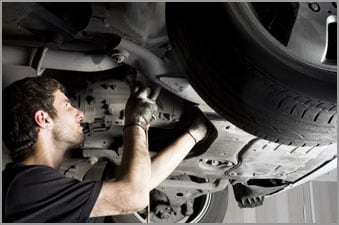 Is it necessary to replace my car's timing belt at the recommended interval
Yes. It costs much more to repair an engine with a broken timing belt than it is to replace a worn timing belt before it causes damage. So, it's much more cost-effective to replace your timing belt at the recommended interval.
A belt in my car is making a loud squeal. Should I change it?
You should inspect and replace belts regularly to avoid costly damage. It's easier and more cost-effective to replace a worn belt before it breaks than it is to repair the damage caused by a broken belt. If your car's belts show signs of wear, it's best to replace them.
What should I do if my car's "check engine" or "service engine soon" light comes on?
Bring your car in for service as soon as possible. Our team at our service center in Downers Grove can check your car's computerized components and sensors to get to the bottom of the issue and make the necessary repairs to get your car running smoothly again.
What should I do if my car starts to overheat?
This is a serious issue that requires immediate attention. Find a safe spot to pull over to the side of the road, shut the engine off, and do not attempt to check the fluid level in your car's radiator. The fluid will be extremely hot. Have your car towed to your local Mitsubishi dealership near Bolingbrook for service.
Why is my engine oil milky brown?
This is a serious issue. Oil can turn milky brown if it's contaminated with coolant. Coolant can leak into your engine oil from a blown gasket, cracked casings, and a variety of other sources. Make an appointment with our Mitsubishi service center serving Chicago, and we'll be happy to address this problem for you.
How can I make sure that my battery has a good electrical connection?
Inspecting your battery cables and terminals and keeping them clean is an excellent way to maintain a good electrical connection.
When should I replace my car's fuel filter?
Replace your car's fuel filter every 30,000 miles or as often as your owner's manual recommends to help ensure reliable performance from your vehicle.
When do I need to change my spark plugs?
Changing your spark plugs every 30,000 miles or 30 months can help you maximize fuel economy and improve engine performance as you drive around Lombard.