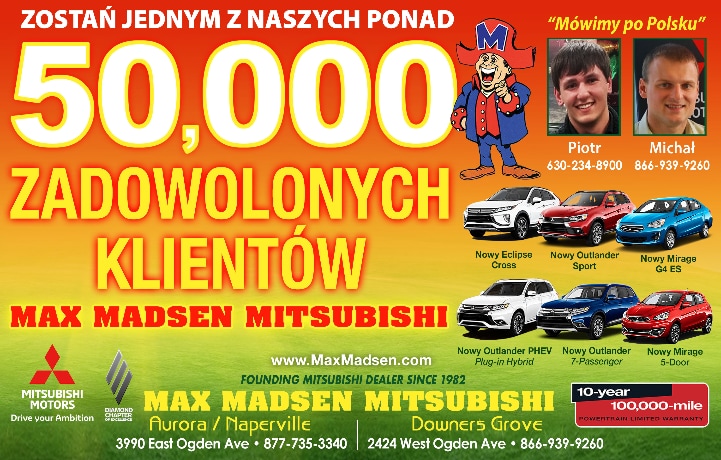 Mowimy Po Polsku
Cześć!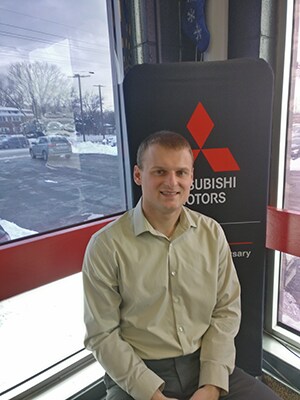 Mam na imię Michał Nowobilski. Jestem sprzedawcą w Max Madsen Mitsubishi w Downers Grove. Jestesmy firmą rodzinną ktora działa ponad 30 lat. Chcę cię powiadomić że tutaj można znaleść piękne nowe lub używane samochody. Z radością pomożemy znaleźć wymarzony samochód dla ciebie. Nie tylko znajdziemy samochód dla ciebie, ale w razie potrzeby odkupujemy za dobrą cene twój używany samochód. Proszę zadzwonić na 888-382-8925 lub przyjedź do naszego sklepu aby dowiedzieć się, jak możemy pomóc.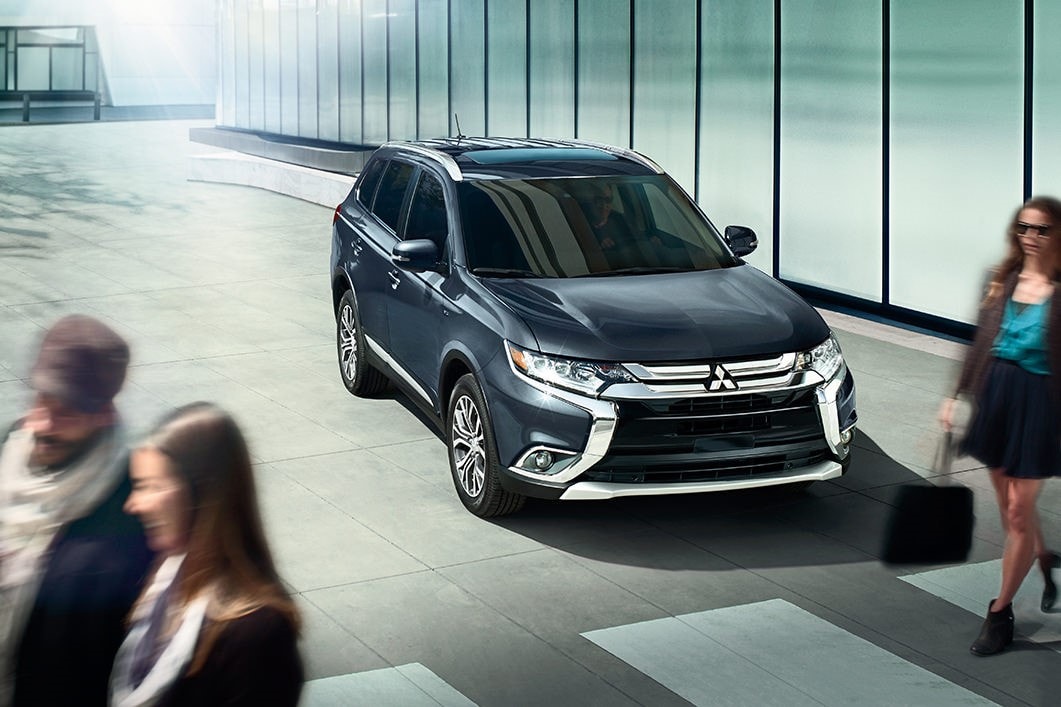 Starting at $17,495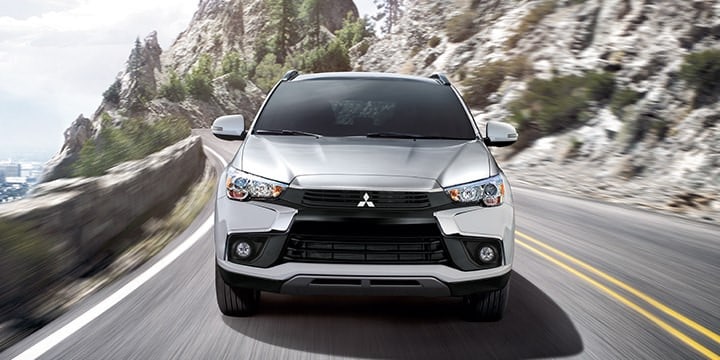 Starting at $13,995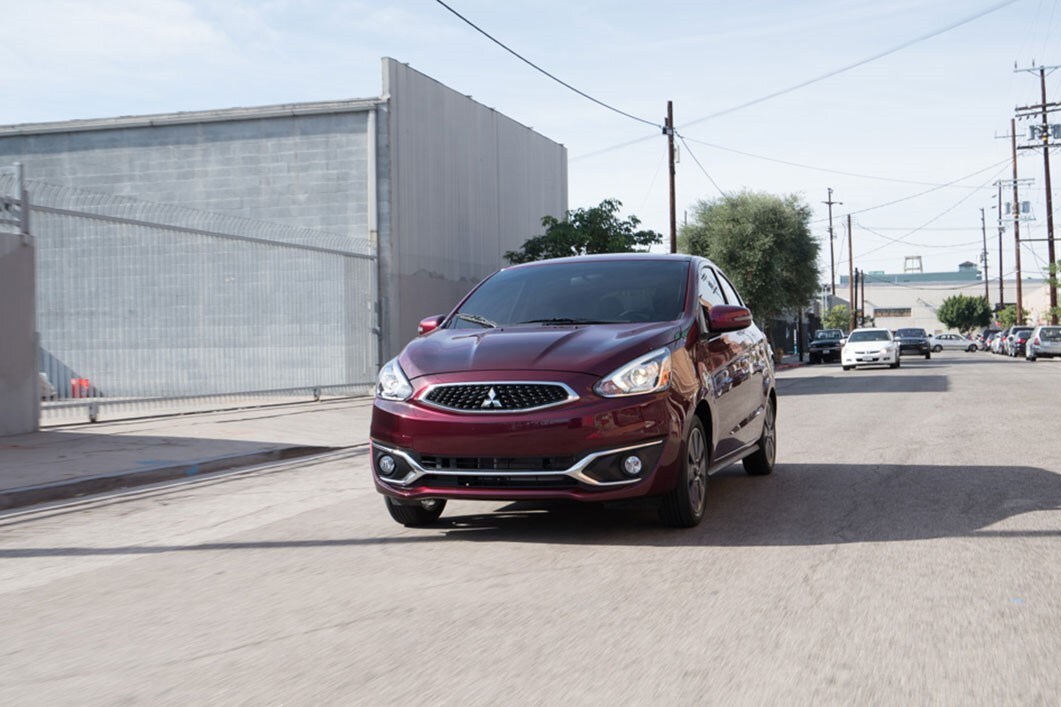 Starting at $9,999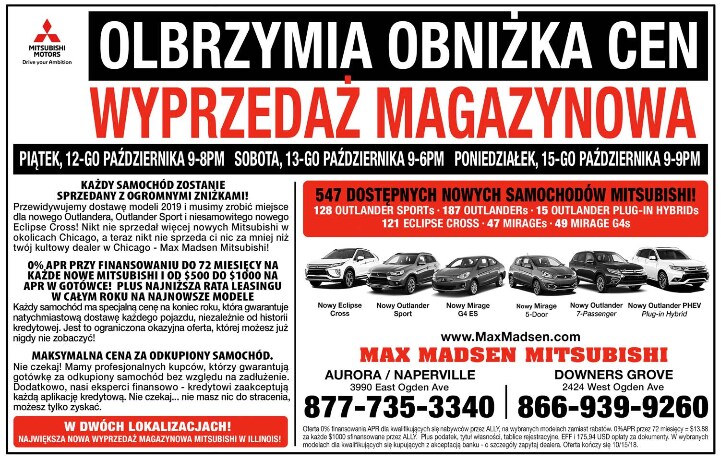 Witamy w Max Madsen Mitsubishi Downers Grove,
Mówimy po Polsku.
Max Madsen z zadowoleniem informuje że jesteśmy lokalnym dilerem Mitsubishi mówiącym po Polsku. Nasi klienci mają do nas pełne zaufanie i zagwarantowany najlepszy serwis. Max Madsen chce ułatwić proces zakupu samochodu i spełnić oczekiwania polskich klientów. Celem zapewnienia najlepszego serwisu Max Madsen zatrudnił polskojęzycznego sprzedawcę. Jesteśmy dumni, że możemy zapewnić klientom mówiącym po polsku pomoc w zakupie nowego i używanego samochodu oraz finansowanie, serwis i naprawę w Twoim ojczystym języku. Oferujemy najniższe ceny i duży wybór nowych (large selection of new cars) i używanych samochodów. Obsługując Downers Grove Il sprzedajemy najwiecej Mitsubishi w okolicy. Oferujemy najlepsze ceny, wszelkie zniżki i promocje na nowe i używane auta, veny, półciężarówki i SUV. Zadowolenie i satysfakcja naszych klientów jest naszym kluczem do sukcesu.
Jeśli twój samochód potrzebuje regularnych napraw i konserwacji jak zmiana oleju, naprawa transmisji itp. nasi mechanicy zrobią to z przyjemnościa.
Posiadamy wyszkolonych i certyfikowanych techników. Oferujemy długie godziny otwarcia także w soboty. Zapewniamy również możliwość zamówienia oryginalnych części z Mitsubishi (order parts from Mitsubishi), a nasi technicy chętnie pomogą Ci w zainstalowaniu tych części jeśli tego potrzebujesz.
Max Madsen oferuje także swoim klientom najlepsze oprocentowanie pożyczek. Nasi specjaliści od finansów współpracują z wieloma bankami i pomogą znaleźć najlepszy kredyt. Nawet jeśli masz zły kredyt lub nie masz go wcale, czy też kupujesz samochód po raz pierwszy możesz mieć do nas pełne zaufanie. Max Madsen profesjonalnie i z uwagą pomoże Ci w zakupie wybranego i wymarzonego samochodu.
Możesz również użyć naszego kalkulatora (use our financial calculator) by wyliczyć miesięczną ratę spłaty pożyczki. Możesz również użyć nasz lease kalkulator by zobaczyć i porównać inną opcję.
Max Madsen Mitsubishi jest liderem w Downers Grove i okolicy. Zadzwoń do nas pod numer telefonu 1-888-382-8925, wyślij email do piotr@maxmadsen.com lub odwiedź nas dzisiaj. Będziemy szczęśliwi pomagając Ci spełnić Twoje oczekiwania w dziedzinie motoryzacji.